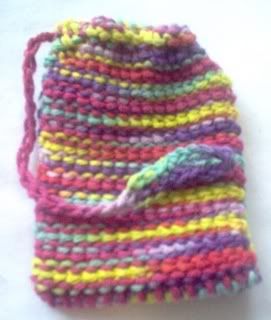 Ever notice how your bar soaps seem to be dissolving in the shower? They are literally being melted away by the hot water. These handmade Soap Savers -- crocheted with 100 percent cotton yarn in Tunisian stitch -- are the perfect solution. Just slip your favorite bar of soap inside and pull the drawstring tight to protect your soaps from shower erosion!
Your soap can't escape the bag yet will lather up through the stitches while you shower. The Soap Saver also acts like a washcloth and provides gentle exfoliation.
Just toss the Soap Saver into the washing machine when your soap finally does run out! Soap Savers are also dryer safe.
Pair up our Soap Saver with a handmade bar of soap for a wonderful, handmade present this holiday season!